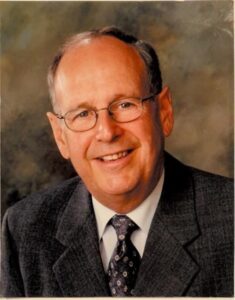 In Montreal on October 13, 2023 at the age of 86, Robert Demers, lawyer, husband of the late Liliane Densky, passed away naturally. Leaving in mourning his sister Marielle, his son Francois Demers and his wife Brigitte Monast, his son-in-law Barry Pearson of the late Catherine Demers, his grandchildren Philippe-Olivier Demers (Kasandra Roy and baby Mila to be born on November 15), Sarah Demers Pearson (Alain Mongeau), Alexandra Demers, her nephews and niece Loulou as well as several other relatives and friends.
With a busy career as a lawyer, businessman and financier, he held the positions of president of the Quebec Securities Commission and president of the Montreal Stock Exchange, among others. For about twenty years, he was a director of companies in Canada, the United States and Europe.
He has been greatly interested and involved in politics throughout his life.
In October 1970, he was appointed by the Government of Quebec as a lawyer to negotiate the release of the two hostages with the Quebec Liberation Front (FLQ).
He was a recipient of the Silver and Gold Buttons of the Toronto Stock Exchange (TSE) for his contribution to the securities industry and Officer of the Order of the Oak Crown of Luxembourg.
He has also been a member of the board of directors of several non-profit companies, such as the foundation of the Université du Québec à Montréal, the Société du cinéma, the Théâtre du Nouveau-Monde, Le pont entre les générations and several others.