The 375th of Montréal May 17, 2017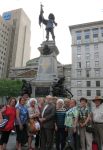 Along with Suzanne, Élaine, Andréanne, Jacqueline, Jean-Luc and his wife Bernadette, Jocelyne Guitard, Jacqueline Lapalme, Rock Demers and his wife Viviane who joined us at the end of the day, Rosy and I spent an unforgettable day under a sunny sky in the Old Port of Montreal to celebrate the 375th anniversary of our city. We met on the Place d'Armes during the ceremony of tribute to the founders at the foot of the monument dedicated among others to Maisonneuve and Jeanne-Mance.
We then took the direction of the docks where we had our picnic (see photo). Subsequently, because of our modified schedule, we had time available. Driving along the water's edge we thought of taking a cruise on the river aboard the Cavalier Maxim. What a great idea!! (see photos).
Back on dry land, we treated ourselves to a good ice cream before having dinner on a terrace and then heading to Notre-Dame Basilica to meet our friend Rock Demers and his wife Viviane to attend an Aura light and sound show. WOW!!
Following the taking of our family photo at the foot of the Monument in Maisonneuve we took the direction of the surroundings of the Quai de l'horloge to see the illumination of the Jacques Cartier Bridge. We were not alone in the area.
To sum up our experience in three words:
WHAT AN UNFORGETTABLE DAY!!
Alain Demers