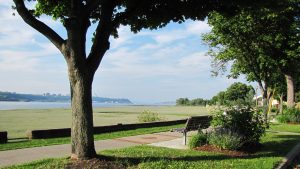 THE ST-ROMUALD GATHERING
July 6 and 7, 2019
This gathering will be remembered for the beautiful exchanges among participants. Descendants of the Demers came from all over the continent to celebrate the 375th anniversary of the arrival of Jean Dumay and his three sons in New France.
Exceptionally, Garnet Wharton attended with her parents from Marlin, Oregon, as well as Laura Demas White with her husband from Raymond, Alberta; Pauline Demers Stern and her husband from Rockwood, Ontario; Christine Demers with Jack from Campbellford; Christopher Cronk and Betty of Scarborough, Ontario. Let's not forget the ever-faithful presence of Anna, Veronika and Cornelia of Lowell MA. Stephen and his wife came from Arlington MA, as well as our friend Dennis Doiron from Gardiner ME and Patrick from Acton ME, accompanied by Adele (Alain discovered a cousin he did not know before). Also in attendance, a long list of participants from Quebec, who have become long-time friends and who have followed the association faithfully, many since the beginning of the Association. We salute you warmly!!
Rosy and Alain, dressed in costumes Jean and Jeanne would have worn long ago, welcomed the Demers cousins. As people began to arrive, it was possible to browse the documents and photos about the Demers families, descendants of Jean who had settled on these lands. Bernadette and Thérèse Demers surprised many with their family anecdotes concerning the home of their ancestor Jeremiah Demers.   
Roch Demers, personifying the ancestor Jehan Dumay, made the opening presentation of the gathering. Quickly, after an excellent buffet, we set out for our visits to the historic site of the Davie Shipyard and the promenade in St. Nicholas.
I really enjoyed discovering the history of the Shipyard founded in 1825 by George Taylor. Alison Davie continued the work begun by his father-in-law. The repair of ships first brought regular contracts to the shipyard and in 1832 Davie initiated a towing service to the Pointe de Lévis to facilitate the repair of ships without the problems caused by the tides. In time, his son George Taylor Davie, took over the business, run by his mother Elizabeth Taylor Davie after Alison's death in 1836.
The promenade through St. Nicholas with its beautiful period homes brought us to the event "Village in The Arts" where it was possible to exchange with interesting artists and view their work. We browsed through books concerning family histories as well as ancient artifacts and tools at the Society of History and Genealogy of St. Nicholas. I would be remiss if I did not mention the lucky ones who were able to divert the bus to Vire-Crêpes Road.
It was a very warm day and the beer tasted good when we got back.   Some of us even attempted to cool down under running tap water. Our caterer spoiled us with three excellent meals. The day also provided Alain with an opportunity to launch his book "From St-Jacques de Dieppe to New France, Jehan Dumay tells us" which tells his story as well as the beginnings of his three sons in the land of America.
Later, some had a try with Karaoke including Alain with his hit "Pretty Woman". André supported Alain in a duet to charm the audience with "My Way". The unexpected group of Elaine, Paul, Christiane, Alain, Suzanne and Betty cleared the room with their performance of "Hey Jude". It was a lot of fun.   
Returning on Sunday morning, participants enjoyed the delicious brunch while continuing with the discussions that had begun the day before. Alain, Louis Daniel and Philippe, Raymond's son, representing their respective ancestors: Étienne, André and Jean, spoke to us about their beginnings in New France. We experienced good moments of exchange on this land of Etchemin at the Juvénat Notre-Dame du Fleuve.
Jacques Demers, owner of the Demers' Greenhouses, provided each participant with an unexpected gift. Everyone left with a smile on their face and a basket of the best strawberries in the world.   
It was difficult after two intense days to say "Au Revoir" hoping to see everyone once again next year.  
Suzanne, Alain and Rosy